SEARCHING FOR A FAIR RATE?
Current Rates
How do Premier Scoping Services' rates compare?
According to the poll conducted in 2007, Premier Scoping Services has mostly "average" rates, though in some instances, I actually charge less than the "low" rate. Considering the years of experience I have to offer, that's quite a deal! I charge rates that I feel are fair to both you and I. I am not interested in overcharging for my services, only an honest day's work for an honest day's pay.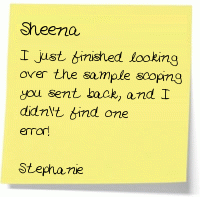 Do you only care about paying the lowest rate?
You get what you pay for; that's a fact. Yes, there are other scopists out there charging less. They are mostly newbie scopists who recently graduated their training course. My rates are very fair in comparison with what I offer in return. I think I charge far less than what I'm worth, and I have several clients who will tell you that as well.
You know other reporters who undercut your rates, right? Why do they have to charge less? Just to keep working because they are subpar. It's the same story with scopists. Those scopists who charge what they're worth do a great job because they're not working for peanuts. They're happy and content because they feel like they're earning what they're worth. The scopists who undercut rates eventually get burned out, realizing they're undercharging and, in turn, do a lousy job. A smart reporter is not one willing to pay someone .25 less than what I charge and then have to go back and rescope the job. If you're willing to go that route, why not just scope the job yourself in the first place? You can't put a price on competence, dedication and good work ethic.

Still concerned about rates?